Published on SEranking April 03, 2020 (Svetlana Shchehel)
Have you ever asked yourself what people see when they Google your brand name? Does your Brand SERP look flattering and convincing or not quite? In this blog post, based on the webinar with Jason Barnard recently hosted by SE Ranking, you'll find the answers to questions like: Why tracking your brand name is crucial for your success? How to measure Brand SERP quality? And what can you do to improve your on-SERP brand image?
Keynote speaker, 100% digital nomad, and host of the SEOisAEO podcast at Kalicube.pro
Jason Barnard is a search marketing consultant, a musician, a cartoon-maker and a voice actor, who regularly makes podcasts and is pretty active on Twitter. And all of this is pretty evident if you simply glance at his personal Brand SERP—something Jason has managed to achieve after seven years of hard work. Now, here are some fun facts that are not (yet) on Jason's Brand SERP—he went to the same university in Liverpool as John Lennon, he started doing SEO back in 1998 as a blue dog (a cartoon character he impersonated), and since 2013 he's been obsessed by Brand SERPs and what they can do for businesses.
Below are all the tips and tricks THE Brand SERP guy shared with us during the webinar.
What do Brand SERPs have to do with the bottom line
If you're wondering why you should even care about your Brand SERP in the first place, ask yourself two questions: Who is searching for your brand name? And why?
The first group is your existing clients who are searching for your brand name because they want to navigate to your site. These people see your Brand SERP on a regular basis—an existing client can potentially search your brand name multiple times per day.
The second group is prospects, the bottom of the funnel. People who are about to do business with you, about to sign on the dotted line and become your partners. They search your brand name to find out more about you, to make sure that you're the right business to partner up with. After that you have your potential hires, people who want to work for your business. Journalists who want to write about your business. All of these people except the first group are researching your brand.
People are searching for your brand either to navigate to your website or to research you
The crucial fact here is that every type of searcher is either already doing business with you or is making the decision right now. What they see is incredibly important to your entire business strategy as they're the people who really matter to your bottom line. And what they see may look perfect, good or not quite. Jason's personal Brand SERP currently looks like this, and he claims that it is not yet perfect.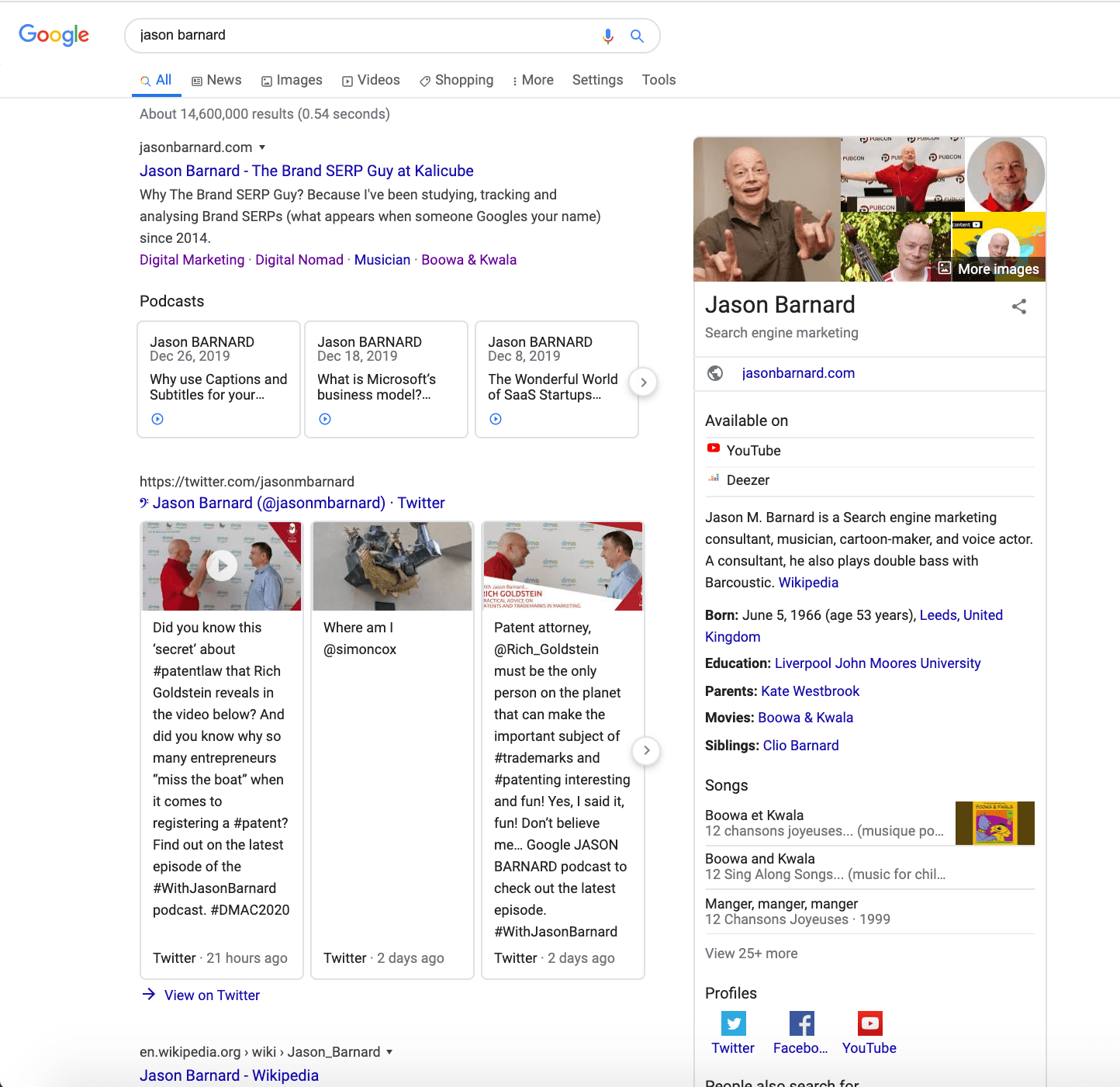 So, if your Brand SERP doesn't currently feature sitelinks, the Knowledge Graph, or Twitter snippets, there's a lot for you to learn and do.
What makes a Brand SERP "sexy"
According to Jason, a "sexy" Brand SERP is the one that looks and feels great. It features some rich elements and not just the ten boring blue links. It is accurate, positive and convincing.
A "sexy" SERP is accurate, positive and convincing.
Your Brand SERP needs to accurately represent your brand to your audience, who are also Google users. Google wants to satisfy its clients, so when they're searching for your brand name, Google wants to show them an honest representation of your brand, be it the ten blue links with some bad reviews or a multimedia SERP with plenty of rich results. Whatever Google decides to show in the search results, the decision is based on what the search giant feels is most relevant and valuable to the end user.
Then, obviously, you want people searching your brand name to see something really positive. You want them to be impressed by the wonderfulness of your brand.
Finally, you want your Brand SERP to look convincing. If someone is thinking of doing business with you, you want them to lean your way after seeing the SERP that Google's presenting. You want them to think, you are a business they want to work with. And that's why getting a Brand SERP filled with rich elements is so crucial.
Above are the Brand SERPs of two CRM solutions. The one on the right featuring sitelinks, a knowledge graph, a People Also Ask box and Twitter snippets looks convincing. While the one on the left with boring blue links and a one-star review does not.
Killing blue links with rich elements
An incredibly good-looking and convincing Brand SERP is just one of the benefits of gaining some rich results. Another undeniable advantage is that they're killing the blue links in your Brand SERP.
Rich elements both look convincing and kill the blue links in your Brand SERP
When you get a rich element like Twitter or video boxes, it takes up two spots in the SERP. So instead of having ten blue links, you only get eight. And the more blue links you kill, the fewer results there are for you to worry about people will see when they Google your brand name. The average number of blue links on a Brand SERP today is seven and a half. So if you have more than seven and a half blue links on your Brand SERP, there's a lot of work to be done.
Gaining rich elements is an efficient strategy for optimizing your on-SERP brand image. Below, you'll find the full list of rich elements that may appear in Brand SERPs. All the statistical data is taken from Kalicube.pro, Jason's personal project with 10 million SERPs in its database. Jason is currently tracking 14 thousand brand names and 10 thousand people to understand what is happening with Brand SERPs on a global scale and what Google is up to.
Sitelinks
So, the most widespread Brand SERP rich element is sitelinks. They are present in 45% of Brand SERPs and they are absolutely crucial because they allow you to gain control over the top of your SERP. Sitelinks are also really helpful to users because they allow them to access important areas of websites directly from the SERP.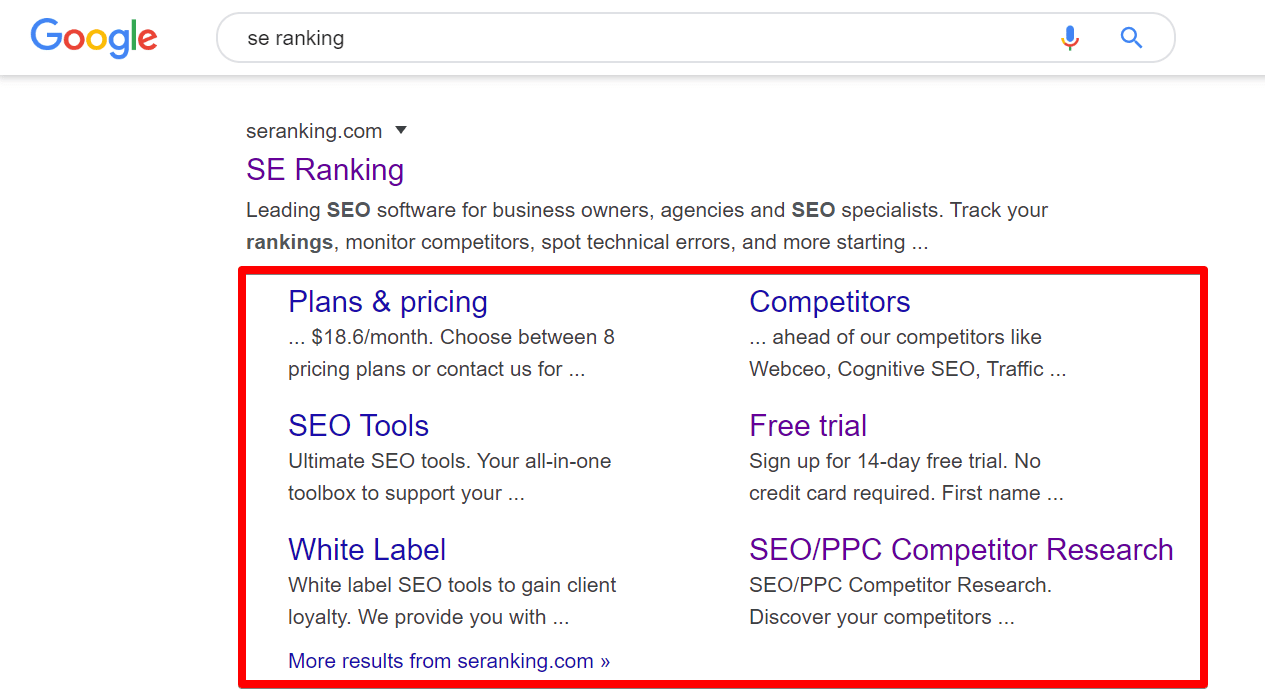 A lack of sitelinks is a big red flag as it means that Google hasn't understood your site properly. It's not clear for the search engine which areas of your website users may be interested in learning more about when searching your brand name. So, if you want to get those sitelinks, you really need to implement all the necessary changes on your website.
People Also Ask
33% of brands have a People Also Ask box on their Brand SERP. That's up from 29% eight months ago. Why did such an increase happen? Because Google wants to answer questions before we've even thought of asking them. So whether a user researching a brand wanted to ask these questions or not, they are already there thanks to Google. And it's your responsibility to make sure your website has a page that answers such questions because you need to control what answers people see.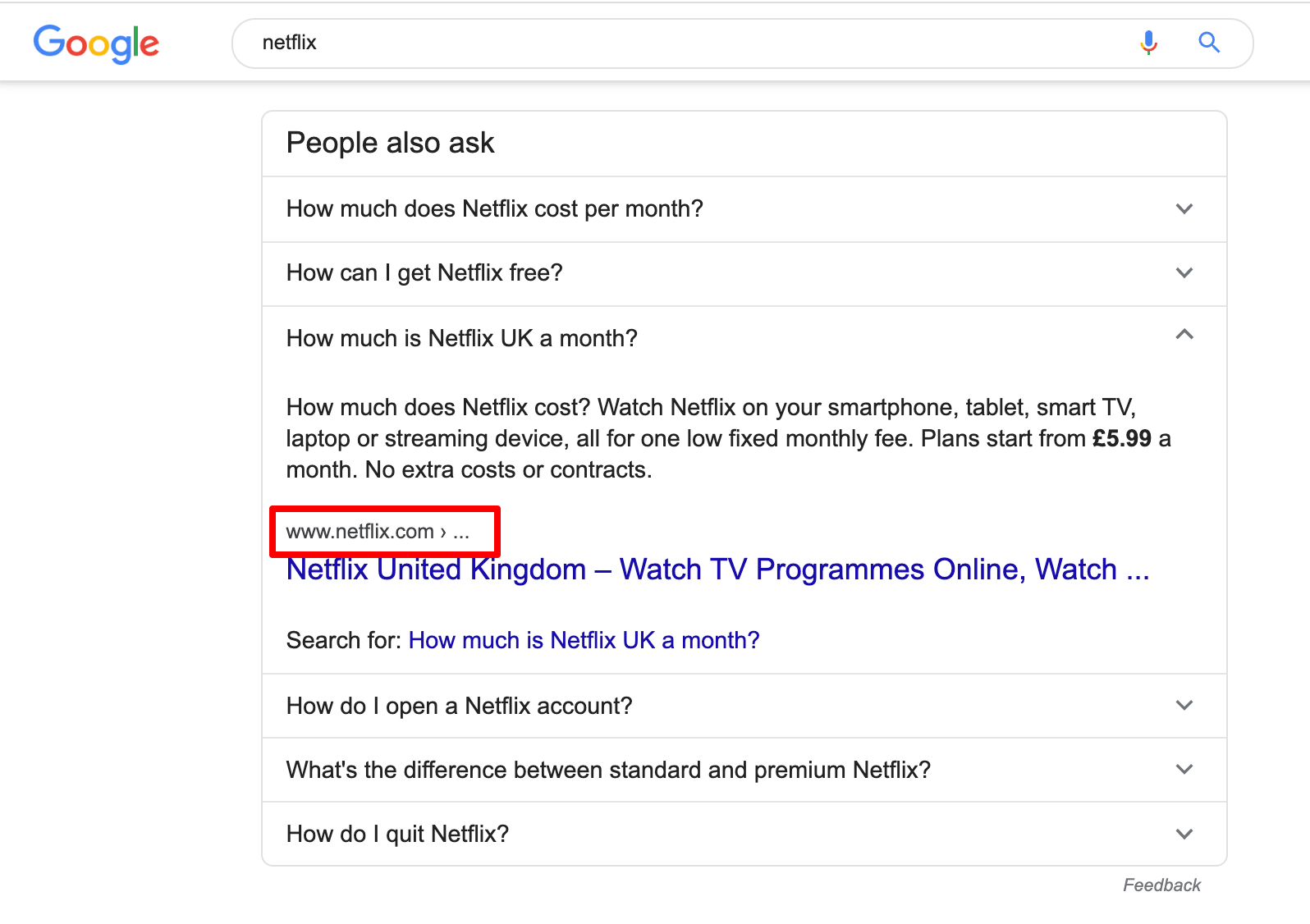 Twitter boxes
11% of brands have got Twitter boxes. Twitter boxes look professional and they indicate that your Twitter strategy is incredibly successful.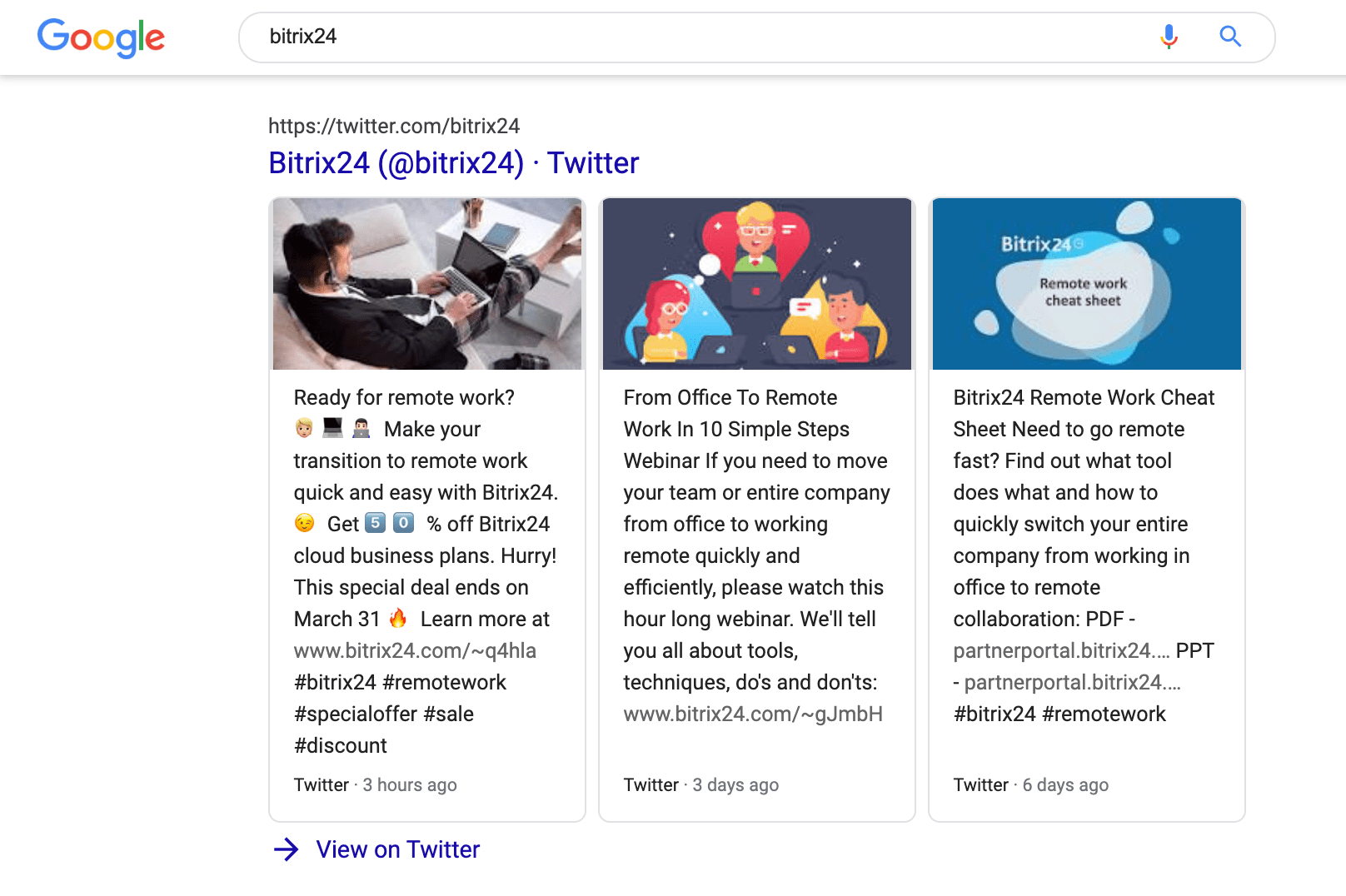 Bitrix24 has Twitter boxes in their Brand SERP, and you can see the information that's being pulled up was published three hours ago, three days ago. It is relatively recent, relatively fresh. That's because everything you tweet feeds directly into Google. It only takes a few minutes or even seconds to have your tweet injected into your Google Brand SERP. In Jason's experience, the fastest results he's managed to achieve was 17 seconds.
So in fact, you can tweet and talk in real time with people who are searching your brand name, which turns Twitter snippets into an amazingly powerful tool. A client navigating to your site multiple times a day will see a different message every time they turn up, which will indicate that you're working on Twitter and that you're really active. That makes you seem much more credible.
Videos
Videos are very popular on Brand SERPs—25% of brands have video boxes in their search allowing users to watch the videos of the brand they're searching for right within the SERP. If you do have them, that means you've got a healthy video strategy. But if you don't have them, then you should really get to work.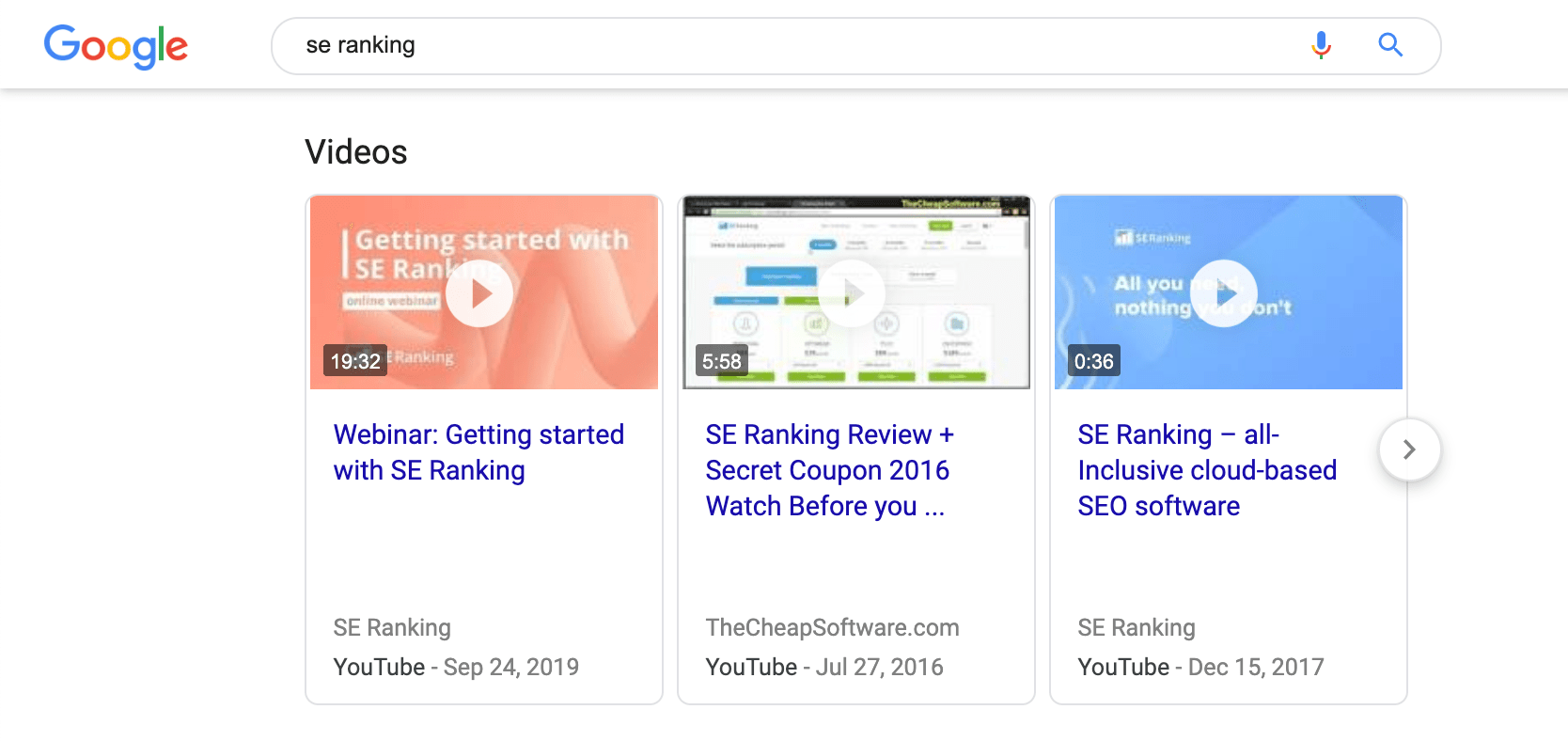 Images
24% of brands have images. It was 36% eight months ago. The reason for that is that videos are becoming more popular and videos and images rarely appear on a Brand SERP together. So when you get more videos, you get fewer images. Images and video are a part of the same algorithm, so they tend to swap each other out.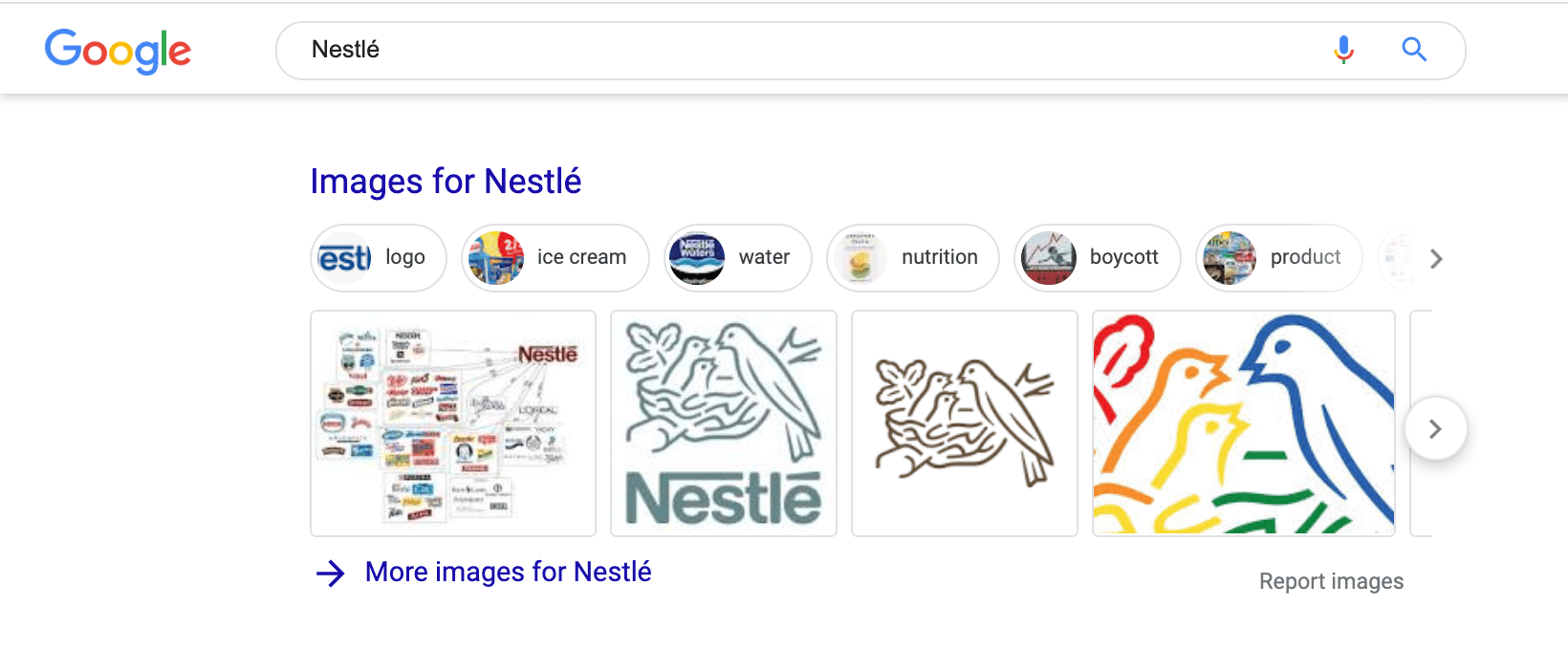 Related searches
Currently, related searches are only present in 12% of Brand SERPs, but the number is increasing very fast. This rich element is incredibly important because having related searches means that Google understands who you are and what you do. And this, in turn, helps the search colossal understand where you might be a good solution for its users.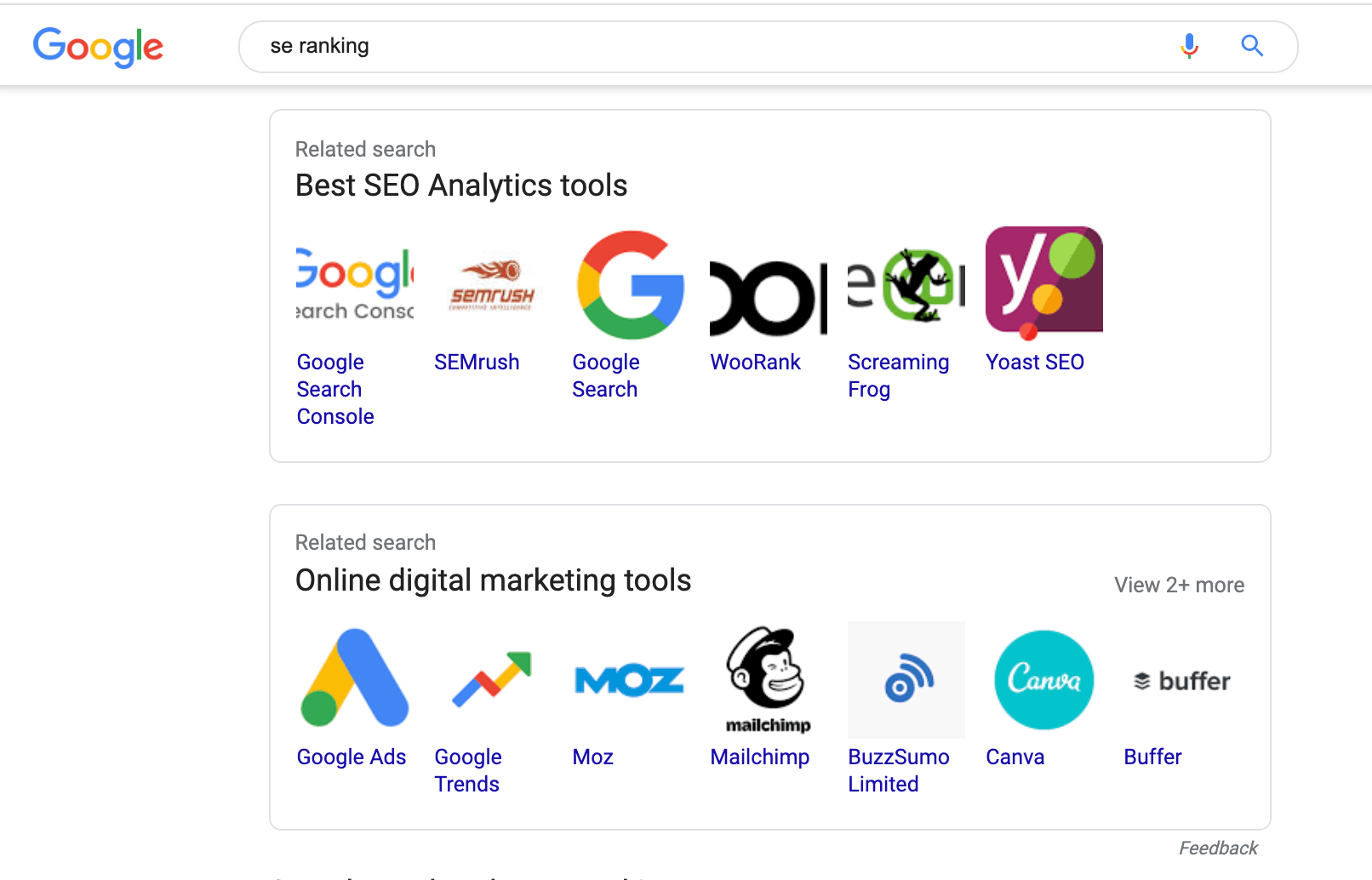 The downside is that you'll have to deal with the fact that your competitors are going to appear increasingly on your brand search.
Featured snippets
Featured snippets are very rare—they only appear in 2% of Brand SERPs. That's because they are supposed to give a succinct answer to a question, which is not relevant for brand searches. People Also Ask boxes are much more valuable for Google users. So this is unlikely to increase, and you can expect featured snippets not to appear on your Brand SERP.
Knowledge panels
15% of brands have knowledge panels. If you don't have the knowledge panel today, you don't look very professional. Jason believes that now when we search for a brand, we expect to see a knowledge panel. A knowledge panel shows what Google has understood about the brand and what it does. Knowledge panels look very professional and convincing.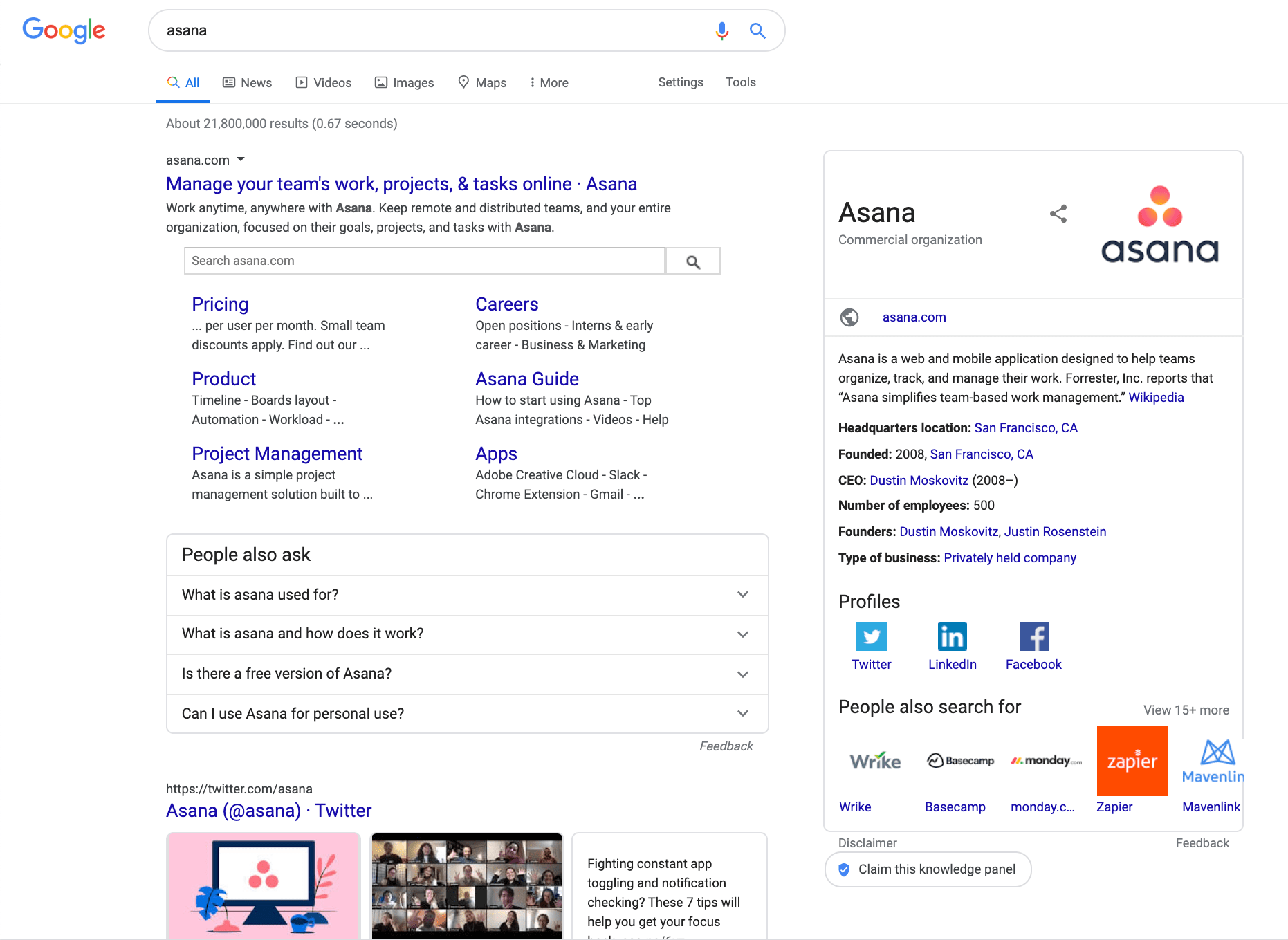 So, let me once again stress that getting some of the rich elements listed above makes your Brand SERP look convincing. As long as they're accurate and positive, they help you tick all three boxes. Besides, thanks to rich elements, you will only have five to seven blue links in your Brand SERP to worry about. And here's where Jason's other strategies of optimizing the Brand SERP come in handy.
Dealing with different types of content in your Brand SERP
Every blue link in your Brand SERP belongs to one of three groups: content you control, content you semi-control, and content you don't control. In spite of the lack of control in the last two cases, there's something you can do with every content type to make it work for you.
Content you control
So, the content you control is naturally the easiest one. Your Brand SERP will always feature your homepage, which you can easily manage. Ask yourself whether the meta title and meta description Google shows are as convincing as they could be? If not, you know what you need to do. If you belong to the 45% of brands boasting sitelinks, you can edit their meta titles and descriptions as well. If some of the sitelinks are not quite relevant, there's not much you can do since they're chosen algorithmically.
What you can do, is make use of Google Ads and choose on your own which sitelinks to include in the paid search result right above the organic search snippet of your homepage. Google Ads are a great way to control your brand message 100% front and center, right at the top. Moreover, with Google Ads, you can segment your audience so that you can show a different message to existing clients navigating to your website and to prospects who are about to buy.
Content you semi-control
Your social media accounts, your Wikipedia page (if you have one), your Crunchbase page, review websites and guest blogging platforms are all content you semi-control.
Your social accounts should logically rank on your Brand SERP. And if they're not, you should work on them to get them there and improve how they appear in SERP. Obviously, you don't have full control over your social page meta titles and meta descriptions, but you can control them to a certain extent.
Also, if you have a Wikipedia page, you can control it. Just don't override it and edit Wikipedia very carefully or you will end up with a warning on your Wikipedia page, or it can even be deleted.

Warning: If you don't have a Wikipedia page, don't create one unless you're notable. Wikipedia has rules about who is allowed a Wikipedia page and who isn't. You need to be notable to qualify, like when people with no personal interest in your brand, for example, journalists from the New York Times or the Guardian start talking about you. If this is not the case, you probably do not deserve a Wikipedia page just yet. Since the article on SEJ gives a practical solution!
Crunchbase is a sort of Wikipedia for businesses. It has data on businesses that you can edit. And here you don't have to worry about being notable and worthy of a page on Crunchbase, as every company has the right to have one.
Then go review websites that often appear on Brand SERPs. You semi-control them, and if they're bad or if they're not as good as you'd like, you can direct your existing clients towards those platforms to improve your reviews.
Finally, blogging platforms. For Jason, it's Search Engine Journal as he writes for them. If you're guest blogging or somebody in your company is guest blogging for another platform, that person's profile on a blogging platform may as well rank on your Brand SERP. And again, you semi-control your profile.
Content you don't control
Your Brand SERP may feature links to forums, posts of bloggers writing about your company or articles on media sites. Obviously, you have no control at all over what they present to Google, and if they're ranking on your Brand SERP, it may seem impossible for you to change that. But here's what you can do.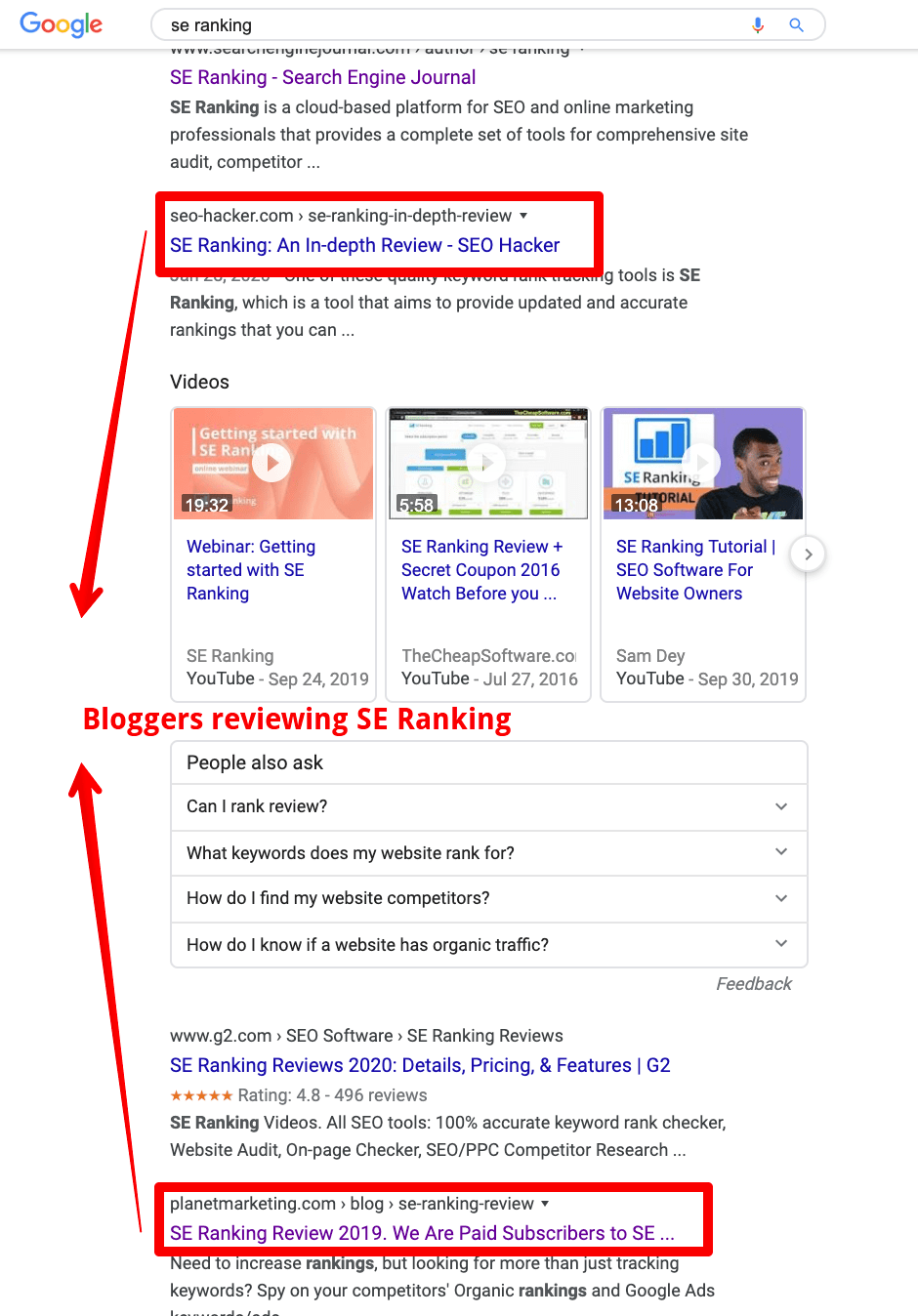 In the case of bloggers or media, you may reach out to these people and ask them if they could change what they've written. Bu that means you have to build a relationship with them first. Then you should be able to convince them to alter the article or at least change the meta description to make your Brand SERP look better.
In the case of forums, obviously the forum owner is somebody you can approach, but you can also engage with your audience on those forums. And that will not only improve your Brand SERP, but also your relationship with your clients and your digital echo system, which is everything around your brand that's online.
Drowning or leapfrogging
Now, if you cannot change the content in your Brand SERP that you don't like, there are a few more options.
The drowningstrategy is all about creating lots of content that will rank on your Brand SERP and push all the content that is suboptimal or negative off of your brand's first page in Google search. That means creating content simply in order to occupy the space. It may sound like a very tempting idea, but in fact, it's not because if you create loads of content to rank on your Brand SERP, you risk triggering Google's Panda algorithm. This is why articles created for the purpose of drowning tend not to rank—thanks to the Panda algorithm Google understands what you're trying to do and won't let you succeed.
Surely, creating new content to improve your on-SERP brand image is not always a bad thing. If you can create content and get it on the Guardian, the New York Times, the Brisbane Times or any other major media site, then it will rank, and that's a great thing to do. If it's just new content on some rubbish platform that will never rank, stay away or you'll ruin your reputation. Messing around with your Brand SERP with cheap, spammy tactics will start to kill your EAT (expertise or authority and trust)—something you surely cannot afford.
Jason recommends using an alternative strategy called leapfrogging. It works this way: you choose content that's below the content you want to get rid of and start pushing it up your Brand SERP, leapfrogging over the bad content and thus pushing this bad content down your Brand SERP. Your actions will depend on the type of content you'll be trying to promote: content you control, content you semi-control, and content you don't control.
So, you can work on your own sites to improve their rankings, you can work on your social accounts, your profile pages on platforms you do guest blogging for. You can work on content you don't control by engaging and helping people who have written some great articles about you to improve their rankings and let them appear closer to the top of your brand SERP.
It's for you to decide which way to go: drowning of leapfrogging. And your choice will largely depend on how your brand SERP currently looks. In the example below, the business has a Wikipedia page and videos on its brand SERP along with sitelinks and a People Also Ask box. But then, they also have several websites promoting alternative competing solutions and a scammy website that looks exactly like their official website.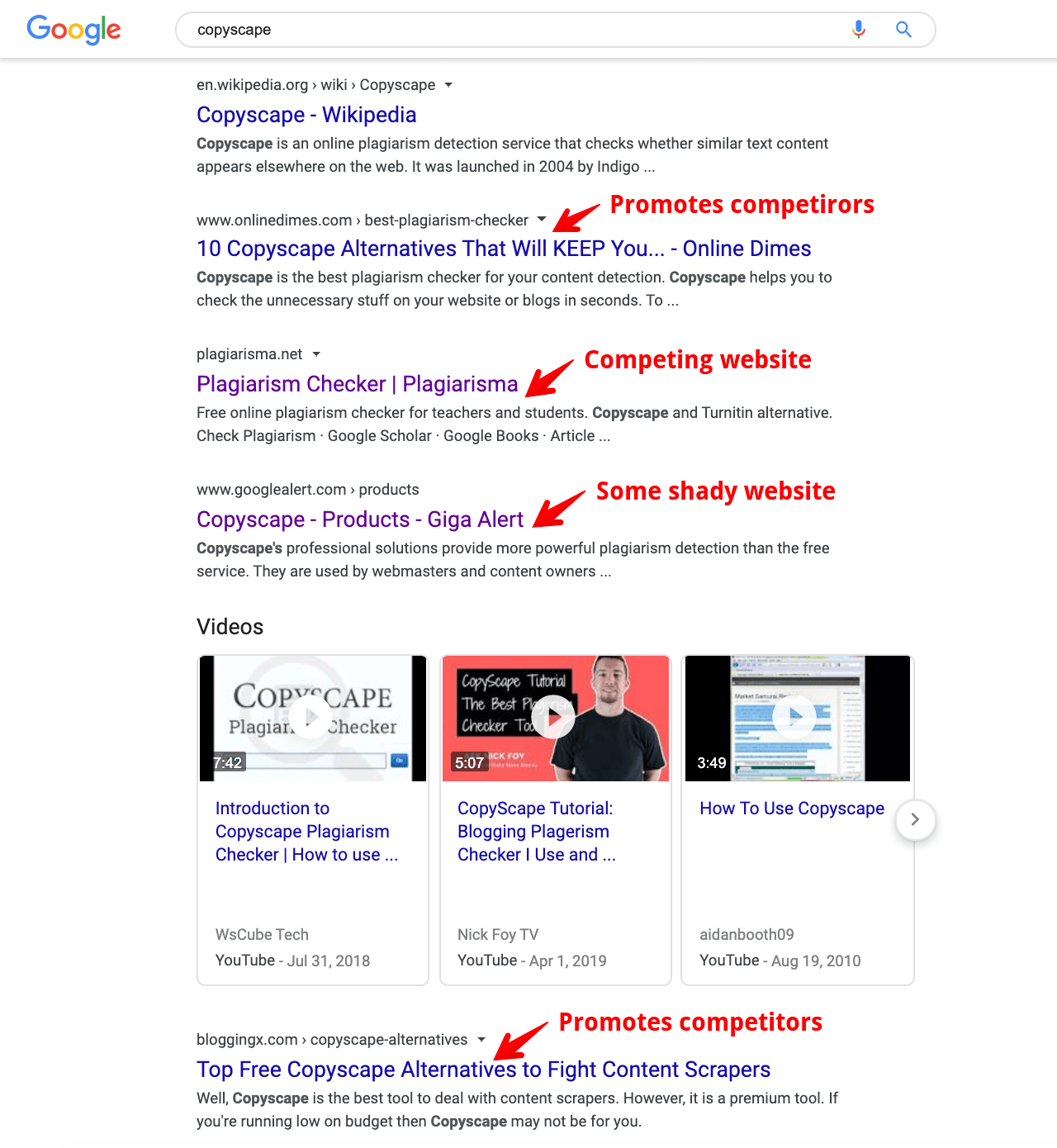 As you can see, there's not much content on the first search page this business can use for leapfrogging. They do have some positive reviews and their YouTube channel on the second page, but promoting this content to the top 10 will take time. So, probably in this case resorting to the drowning technique is justified.
Brand SERP Courses
Learn how to make your Google business card convincing!
Jason will teach you how to optimize what people see when they Google your Brand name.
https://courses.kalicube.pro/
Tracking your Brand SERP
Before you start taking action that could help you improve the way your business is represented on Google, Jason recommends you do one thing. Start tracking your brand SERP to keep track of what people see when they Google your brand name. Follow the track-measure-improve algorithm and make it an ongoing process, a part of your digital marketing routine. That way, if something goes wrong, you'll be able to quickly spot it and then fix it. And you'll see whether the strategies you use to improve your brand SERP produce the expected results.
Surely, for this purpose you want to track not really your website rankings as you should rank number one for your brand in any case, but rather the rich features your brand search triggers and other content present in your brand SERP. SE Ranking can help you with both.
The Keyword Rank Tracker tool will show your rankings and the rich elements your brand SERP features including sitelinks, reviews, People Also Ask boxes, Twitter boxes, images, video, etc. Currently, SE Ranking tracks 16 special SERP features in total. If your website shows up for any one of these special features, the icon will be highlighted in blue.

To find out which other website Google displays in your Brand SERP, one option is to click the ranking position of your brand keyword and choose to view the cached SERP copy—it will let you take a look at the "true" copy your search results, eliminating the impact of your own search history.
Besides, SE Ranking has a SERP Competitors monitoring tool that shows who's competing with you in the top 100 for a selected search query. So, if you choose your brand query, you'll see which other websites are now presented on your Brand SERP. The great thing about it is that you can see how rankings have changed over time, picking any dates you are interested in for comparison. That way, you can easily analyze whether the efforts you applied to improve your brand SERP were fruitful.
To measure your brand SERP quality you can rely on your own knowledge and common sense or use the special tool Jason Barnard's created. His Kalicube.pro system measures brand SERPs and assigns them a score depending on how well each search result on your brand SERP is optimized.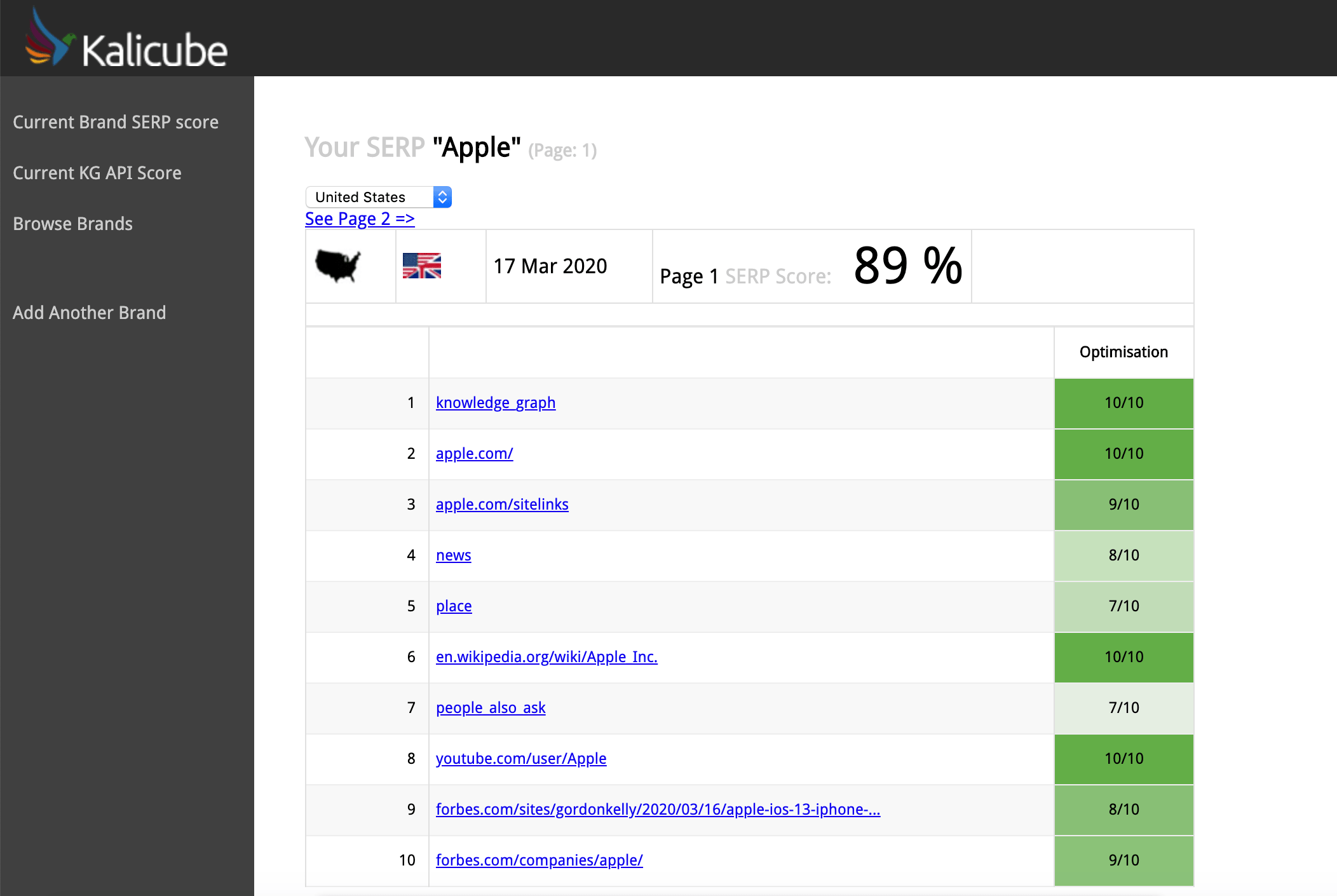 Over to you
Your Brand SERP is your business card, and you need to make it look as good as possible. Definitely, crafting a near-perfect Brand SERP is not an easy task, which can take years to complete. But if you manage to achieve some impressive results, it will have a tremendous impact on your bottom line.
Moreover, working on your brand SERP gives you precious insights into your overall digital marketing strategy. And by polishing off your website content, working on your social accounts, and engaging with bloggers and media, you do not only improve your brand SERP but also boost your SEO, grow brand awareness and build strong relationships with customers.
So, ask yourself whether your Brand SERP today is accurate, positive and convincing. And once you have the answer, you know what to do next.