Originally Published on SEMrush September 03, 2019 (Jason Barnard)
Welcome to Weekly Wisdom. I am Jason Barnard, and I am going to talk to you about Google Ads for Brand Searches, starting with a typical brand SERP. Brand SERPs are phenomenally important and in my opinion, vastly underrated. Many people are saying that the SERP that comes up for your brand search is your new homepage. That is especially true in local search, and I think it is a very valid point.
Your Brand SERP Is Your Homepage
In local search, a lot of the time people don't click through to your website. They never see your website, so Google's search result becomes your homepage. You could also say it is your business card because people are going to search your brand before doing business with you and what they see on that SERP will affect the way they feel about you in a similar manner to the way a business card will function.
Now, who is searching for your brand? Prospects, clients, investors, partners, journalists, job candidates, subscribers, many others. They are searching for your brand name because they are ready to do business with you. What they see on that brand SERP is phenomenally important to whether or not they take that final step. Google Ads is the easiest place to start because you control what it shows, and it is right at the top. With the other elements on that brand SERP, you can influence it. That is what I do for a living. But you can't control them directly. So, Google Ads is always a good place to start.
---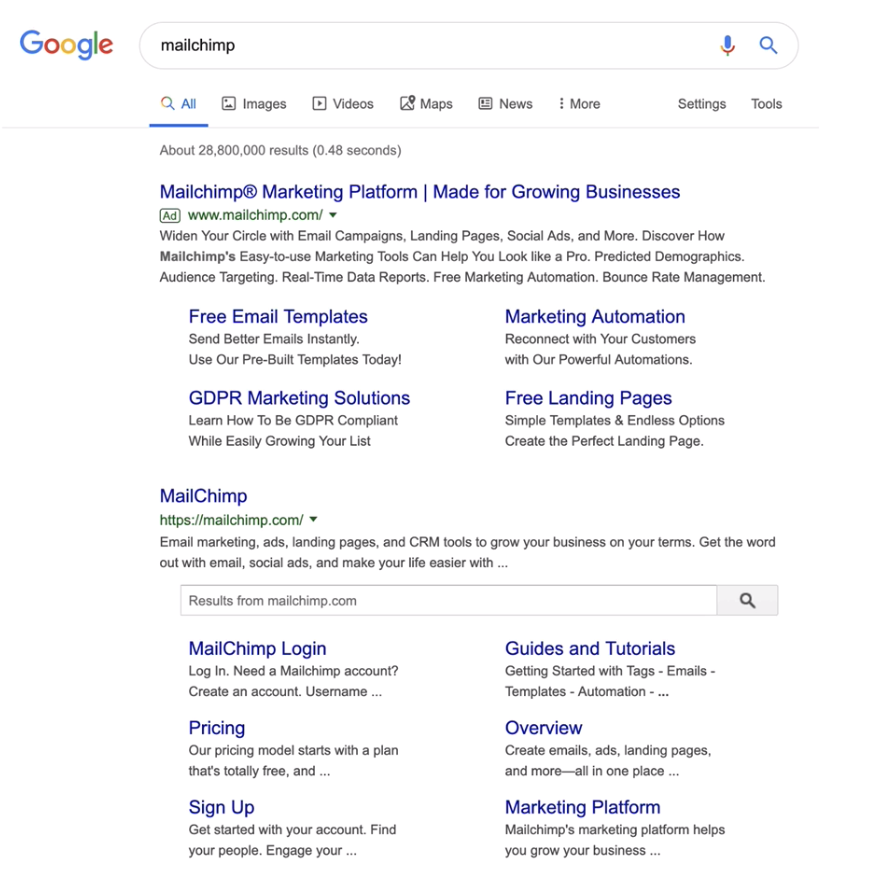 Brand SERP
There are three main aims here:
Dominate the brand SERP. Look at the example above: big chunky sitelinks, lovely text, they are taking up half the SERP already with the ad and the organic.
Convert valuable leads. The people who are searching for you know who you are, they know what you do, they're just trying to make that final decision, and you can obviously help them.
Control your brand message. You want to make sure that you're saying to these people who are interested in your products or services what you want to say to them. Communicate in a manner that is appropriate for your brand and isn't chosen by Google.
---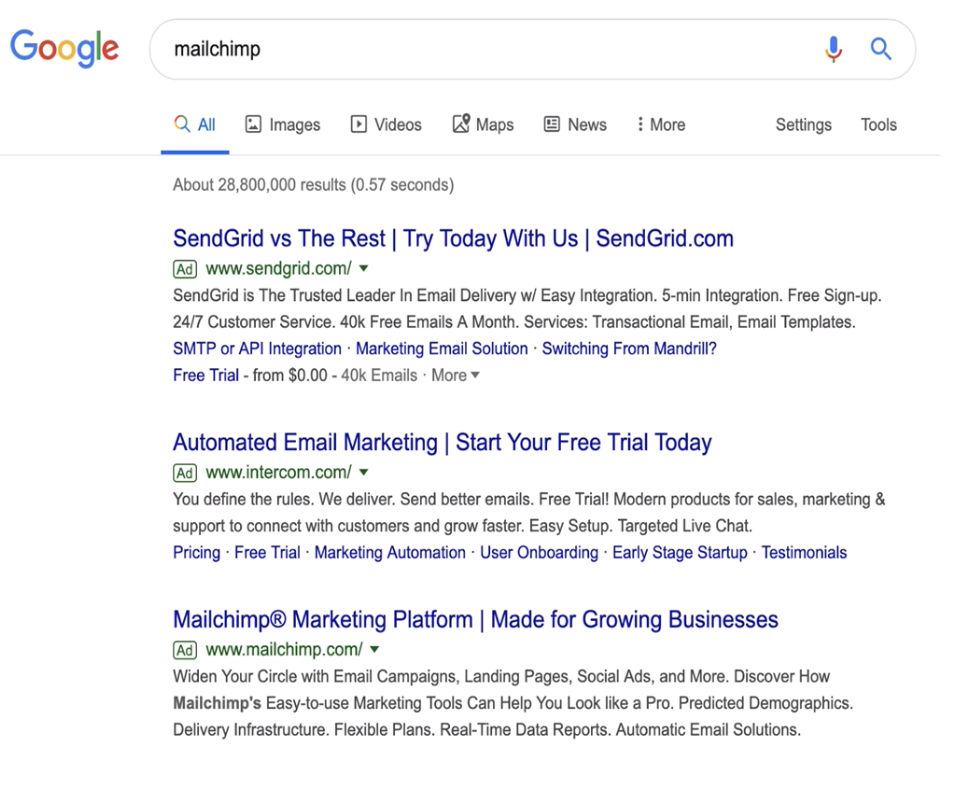 Brand SERP: Competitors' ads
But others are bidding, and that makes it a little bit more complicated. Up here is a great example of a market where brands are bidding on each other's keywords. They are trying to steal the leads from each other. In this example, MailChimp is right down at the bottom. The other two are hoping to steal more leads from MailChimp. They probably won't steal very many, but they will steal some. The good news is that it is rarely profitable for them and you can push up that cost. Your quality score for your brand term should be 10 out of 10. You should be above average in click-through rate, above average in relevance and above average in a landing page experience.
Brand's Quality Score
On the other hand, they're going to have very low-quality scores because people are looking for you, so they are unlikely to click on their ads. They are looking for you, so these ads are not very relevant. They are looking for you, so when the people arrive on the landing page of your competitors, the page is unlikely to be terribly relevant to them. That means that your competitors are paying up to 10 times more per click. That explains why it is so difficult for them to make it profitable. Not only are they addressing people who aren't interested in them, but they're paying a lot more for the clicks to get those people onto their sites.

Competitor's Quality Score for Brand Keyword
So, check your quality score. Make sure it's 10 out of 10. Make sure you have got above average click-through rate, ad relevance, and landing page experience. If it's not the case, you need to work on your campaigns. And even if it is the case, there is still room for improvement. Google says you have got 10 out of 10. It is not an absolute figure. You can always improve a little bit. I have clients who have managed to save 25% on their branded campaigns by implementing the tactics I am about to give you.
How to Get the Most Out of Brand Keywords Ads (And Save Money!)
Protect Your Trademark
You don't want your competitors putting your trademark in their ad copy. You can't stop them bidding on your brand name, but you can stop them using your brand name in their ad copy. How do you do that? You ask Google; there is a form to fill in. You have to have trademarks in the territories you are asking them to protect your brand name for. And, you have to have examples of somebody having used your brand name in their ad copy. That is a little bit unfortunate. You can't proactively protect yourself, so you need to keep an eye on that until you get an example at which point you can protect your trademark.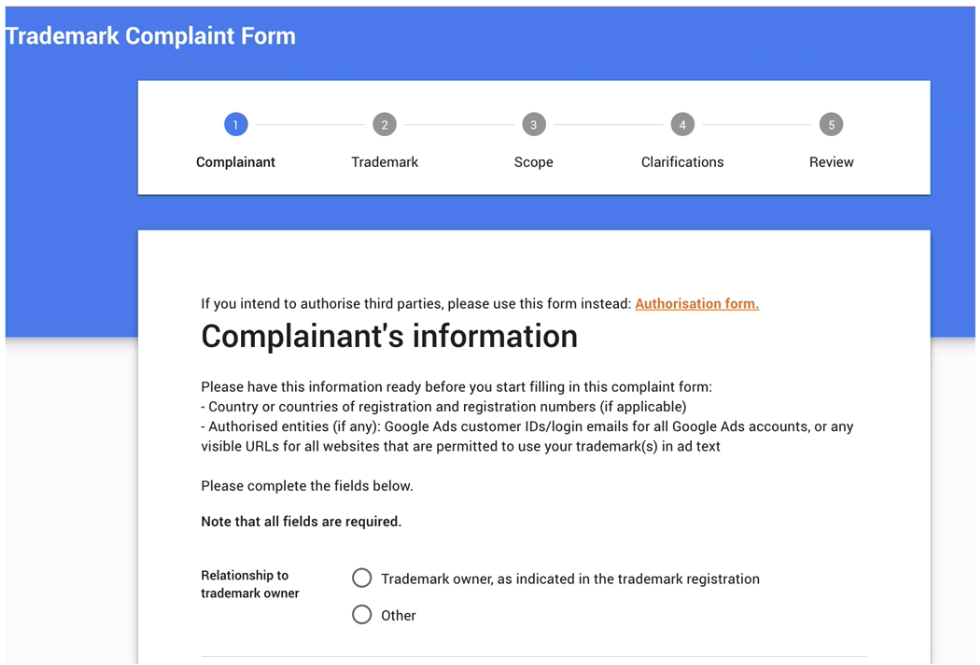 Google Trademark Complaint Form
Ad Relevance
For your brand name, exact match, it definitely relevant. But if you are using Broad Modified, you want to move that to another ad group so you can control it better and it doesn't pan your exact match. You also want to add exclusions to get rid of all the keywords that are taking away the relevance from the query the user is making. You want to make one campaign per language and even per territory, especially in the case, for example, in English where the UK, the US, Canada, Australia will have a different vocabulary, and you might want to address them in a different manner.
Landing Page
How do you make the landing page experience better to push up your quality score and save money? You are probably using your homepage, most brands do. But if your brand page is presenting your products rather than your brand, that isn't going to be ideal. If you want somebody who is searching for your brand, who is ready to do business with your brand to convert, you want them to land on a page that tells them what your unique selling point is, why you're better than the competition, why you're more appropriate for them.
That might not be the case if your homepage is ranking for important keywords organically that you don't want to lose. In that case, you might want to think about having a dedicated landing page for your brand searches. That means you can give the real brand message to people who are about to convert. You obviously want the page to be:
Mobile-friendly
Very fast
On-message
So we are coming back to that idea of making sure you're talking about your brand, your unique selling point, why that person would want to do business with you. That will improve the quality score of your landing page experience.
Click-through Rate
How do you drive up your quality score to pull down your costs? This is often the biggest money saver.
1. The title is phenomenally important. Obviously, you want your brand name in there. You can put a little registered trademark that attracts the eye. But more than anything you want to give the person reassurance that they have picked the right brand. They are searching for the right brand. So, think of some phrase that really makes them feel good about you.
2. You want to push that message even further with the description. You want to convince them that they've made the right choice. Remember, they've already almost chosen you. You are just trying to drive them over the finish line.
3. Extensions. This is the big one, and it is true for any Google ads campaign, and it is one that is often overlooked. You need lots of extensions. The more extensions you have, the more opportunity Google has to optimize your ads and get those clicks. Extensions take real estate. Real estate means clicks.
I like callouts. I like them because they blend into the ad and they give lots of tiny little points, very concise, very precise to convince somebody that you are the right solution for them.

Callouts
Sitelinks, brilliant also. They give somebody the opportunity to go into your site at a specific place. Also, don't forget to put the descriptions. If you don't, you cannot get big blocks. And especially in brand search, that is very, very important.
Sitelinks
Here is a full list. Sitelinks and callouts. Structured snippets. Call extensions. Message – if you want somebody to text you. Location – if you have got shops. Affiliate locations – if you have got other people selling for you. Prices. Apps for app downloads. Promotions – if you have got a promotion. Sure, you know what they are all about. The more you have, the more opportunity you give to Google to show you in your best light.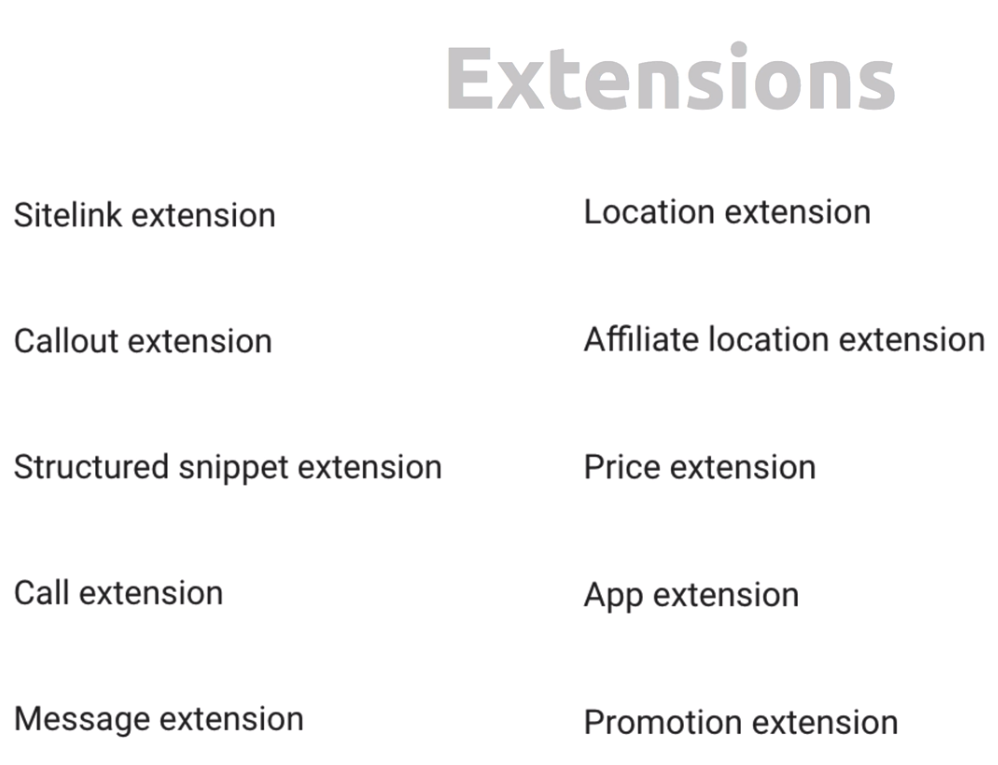 Extensions list
Bid Strategy
Which bid strategy is best for this type of campaign? If one of your competitors is being very, very aggressive and you specifically want to beat them, choose "outrank specific competitor" and make sure you are just above them all the time. If everybody is being aggressive, you might want to go for "top of the page". That is very interesting if you want to make sure that you want to get your message across every single time: front, center, and top.
I like to go with cost per acquisition because the idea here is to make money. So, pulling in prospects and not making money out to them seems to me a little bit foolish, especially now as Google allows us to put conversions at campaign level so you can set specific conversions for these prospects and make sure that you make money from people who are searching for your brand.
Audiences
You want to create an audience of clients in analytics and pull it up to ad words. That way, you can exclude them from these campaigns and not waste money. You might also want to create another campaign specifically for those clients so that you don't lose them to your competitors. You would be sending them through straight to the login page before they have even seen the competitor's ads.
You want to create also an audience of site visitors. Site visitors are people who already really know your products, they have interacted with you, and they know you better than those who haven't. The message you might want to be giving them is different to the message you will be giving somebody who hasn't yet visited your site. You are distinguishing between people who know you very well and people who know you less well. Might be nice to create a separate campaign for site visitors, a separate campaign for clients, and a separate campaign for people searching your brand name who have not yet visited your site.
Conclusion
We have saved money. We have probably pushed up our competitors' costs. We maybe got them off our SERPs if the costs have got too high for them. We have retained our existing clients. We have signed profitable new clients. We've dominated our brand SERP, and we've controlled our brand message. In 10 minutes, that isn't bad.
One last thing. If your competitors aren't bidding on your brand term, you might still want to have a campaign bidding on your own brand term. Why? Because it allows you to dominate. You are there; front, center, right at the top with your message. You can protect in case one of your competitors decide to attack you. They will immediately cost them more money, and you can communicate your brand message once again, front, center, right at the top.
That is all from Weekly Wisdom this week. Thank you very much for watching. I am Jason Barnard. See you soon.