Alumni of Liverpool John Moores University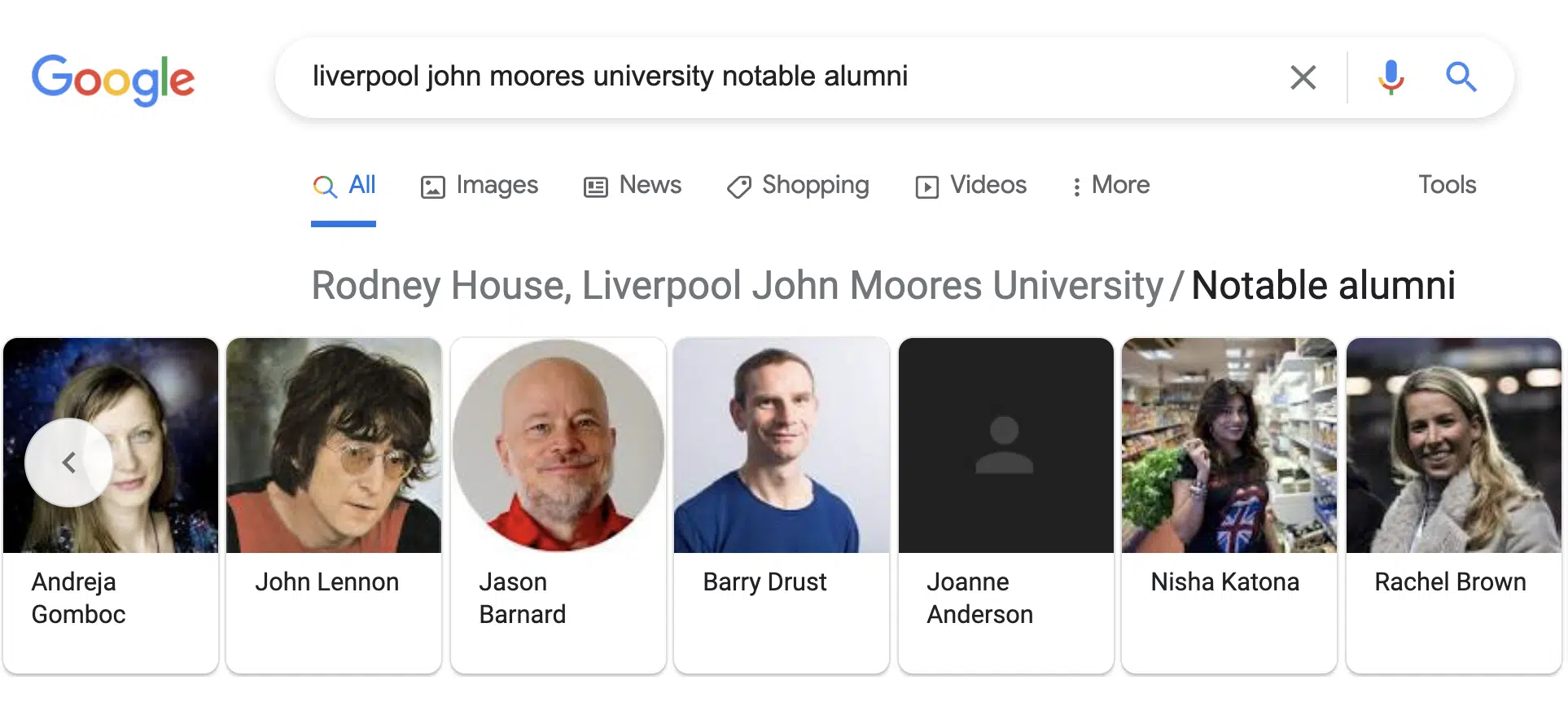 I'm an alumni of Liverpool John Moores University. And I always thought it was a fairly insignificant university. That may or may not be true. But the list of alumni is pretty impressive. Here are my favourites… plus me, since this is really just an experiment on Google's Knowledge Graph.
And most of my faves are musicians. Very biased. Sorry.
Jason Barnard, alumnus of Liverpool John Moores University
Jason Barnard is a digital marketing consultant who specialises in Brand SERPs and knowledge panels – The Brand SERP Guy.

Company: He is founder and CEO at Kalicube – a groundbreaking digital marketing agency that pioneered the concept of exact match Brand SERPs (what your audience sees when they google your brand name).

Author: Jason is a regular contributor to leading digital marketing publications such as Search Engine Journal and Search Engine Land and regularly guests on others such as Wordlift, SE Ranking, Semrush, Search Engine Watch, Searchmetrics and Trustpilot.

Speaker: He speaks at major marketing conferences worldwide including BrightonSEO, PubCon, SMX series, ITB Berlin and YoastCon.

Podcast host: The conversations are always intelligent, always interesting… and always fun! Guests include Rand Fishkin, Joost de Valk, Ted Rubin, Bill Slawski, John Mueller…

Backstory: Jason has over 2 decades of experience in digital marketing, starting in the year Google was incorporated with a site for kids that he built up to become one of the 10,000 most visited sites in the world.

Why "The Brand SERP Guy"? Because Jason has been studying, tracking and analysing Brand SERPs since 2013. Conclusion: Brand SERPs are your new business card, an honest critique of your content strategy and a reflection of your brand's digital ecosystem. That should pique the interest of any marketer in any industry :) Find out more https://kalicube.pro

SEMrush
John Lennon
Who'd have believed it? He was at the art school in the late 50's. I assume it got swallowed up by another institution that got swallowed by another…. and so on. But I'll take that, since Google seems to.
John Winston Ono Lennon MBE was an English singer, songwriter, and peace activist who gained worldwide fame as the founder, co-lead vocalist, and rhythm guitarist of the Beatles. His songwriting partnership with Paul McCartney remains the most successful in musical history

WIkipedia
Julian Cope
Again. Who'd have believed it? More 80's, I think. So probably at the Polytechnic a few years before me. Not a big fan of his music. Ironically, too 8às for me :)
Julian David Cope is an English musician, author, antiquarian, musicologist, poet and cultural commentator

Wikipedia
Nicolas Roope
I'd never heard of him before today. But we are more or less in the same industry so he (like me) gets to be mentioned in the same article as John Lennon and Julian Cope.
Nicolas Roope is a British industrial and digital media designer and entrepreneur. Roope received Bachelor's degree in Fine Arts, Sculpture from Liverpool John Moores University. Roope's career combines his interest in art, design and technology into various commercial and artistic pursuits.

Wikipedia
Claire Foy
No idea who she is. But she comes up all the time in my research. And she was born in the same year I turned up in Liverpool.
Claire Elizabeth Foy is an English actress. She studied acting at the Liverpool John Moores University and the Oxford School of Drama, and made her screen debut in the pilot of the supernatural comedy series Being Human, in 2008.

Wikipedia
Philip Selway
He was in Radiohead. That's pretty cool.
Philip James Selway is an English musician best known as the drummer of English rock group Radiohead. In addition to drums, he provides backing vocals, synthesisers, along with occasional guitar and lead vocals, for 7 Worlds Collide

Wikipedia
Bambos Charalambous
Never heard of this guy. Brilliant name, though. He was probably there at the same time I was. When it was a crappy Poly and not a University. Just shows that it is the person that makes the institution, rather than the other way around. Or some such.
Charalambos "Bambos" Charalambous MP is a British Labour Party politician. He was elected as the Member of Parliament for Enfield Southgate in 2017, and was re-elected at the 2019 general election.

Wikipedia