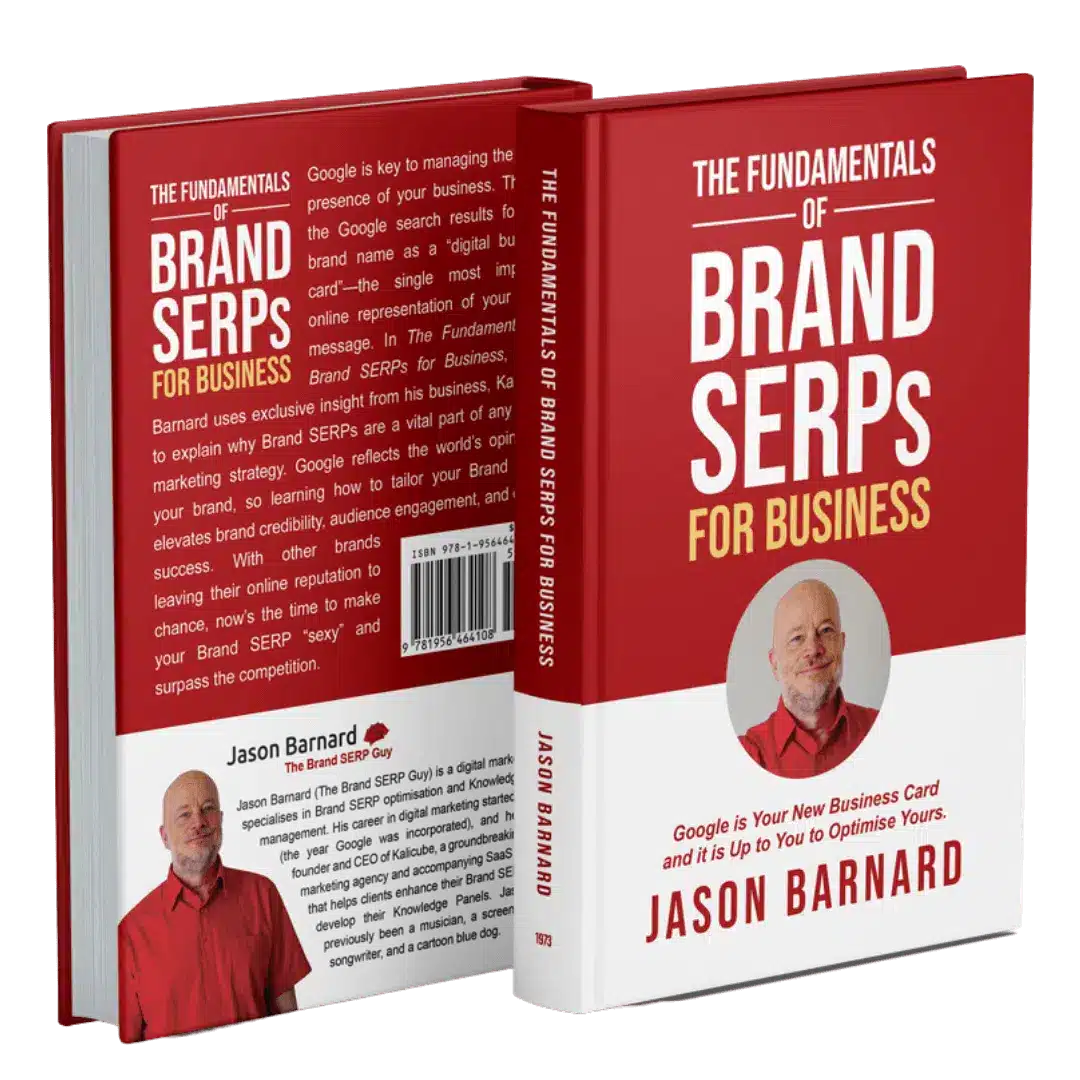 Jason Barnard wrote The Fundamentals of Brand SERPs for Business which was published in January 2022.
Published by Kallicube SAS, it is available in most good bookstores – see it here on Jason Barnard's profile on Amazon.
Here is the sales page on Kalicube's site The Fundamentals of Brand SERPs for Business
The Fundamentals of Brand SERPs for Business
If you're a Brand SERP beginner, and you want to join me in this wonderful, delightful world, then this book is absolutely for you. The Fundamentals of Brand SERPs for Business is the first time my approach to Brand SERPs has been brought together in one place in an easy to understand format. It's a concentration of the key take-aways I have learned from over 10 years working on Brand SERPs for myself and my clients.
I got some help from a professional writer to make the book a real page-turner and ensure it is accessible for any business owner or marketer. I'm incredibly happy with the book because we made it accessible to everyone whilst also bringing value to seasoned SEO experts. People in the digital marketing industry who say they learned a lot reading the book include Joost de Valk, David Amerland, Marie Haynes and Eli Schwartz. Marie Haynes even said she wished she'd read this 5 years ago which is an incredible compliment to pay :)
The book sets out not only why you should care about your Brand SERP, but also what you should be doing to start extracting the maximum benefit from it. Obviously your "Google Business Card" needs to be positive, accurate and convincing for your audience when they Google your name… but the book also shows how anyone can gain great insights into their digital ecosystem, and start building an incredibly effective, efficient and super solid long-term digital strategy by "building from the Brand SERP outwards".
Whether you're a brand manager, a public relations specialist, a marketer or an SEO, if you're starting to get interested in Brand SERPs and you want to get to work improving yours, or you want to help someone else with theirs, then the book is a really great place to start.
You can search "The Fundamentals of Brand SERPs for Business" on Google or visit the official site to find out more about the book.